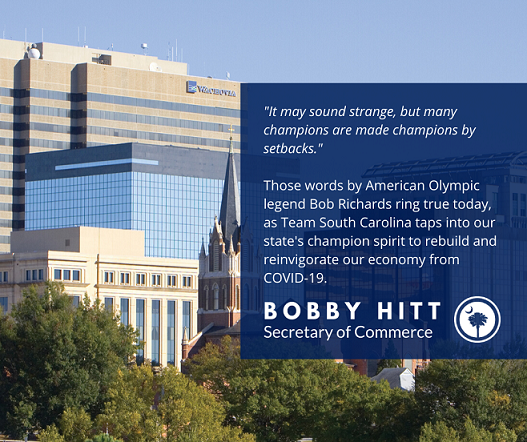 "It may sound strange, but many champions are made champions by setbacks." Those words by American Olympic legend Bob Richards ring true today, as Team South Carolina taps into our state's champion spirit to rebuild and reinvigorate our economy from COVID-19.
Charged with response efforts within Gov. McMaster's accelerateSC Task Force, S.C. Commerce is part of a collaborative team. Comprised of state and local government officials, small and large business leaders, healthcare professionals and more, the team will make recommendations to the Governor for revitalizing and expanding the state's economy, while protecting the well-being of South Carolinians.
This week, the response team met to discuss what it will take to get businesses back up and running, focusing on safety protocols/re-opening guidelines, access to personal protective equipment for employees and workforce re-entry concerns. With a group of stakeholders on the team from various industries, our goal is to come up with a game plan and guidance to businesses that will carry S.C. into recovery mode deliberately and safely.
Team S.C. is dedicated to the health and wellness of all South Carolinians. We want to grow our economy without growing the virus. And, by channeling our champion spirit, S.C. can once again prove our state's resiliency.