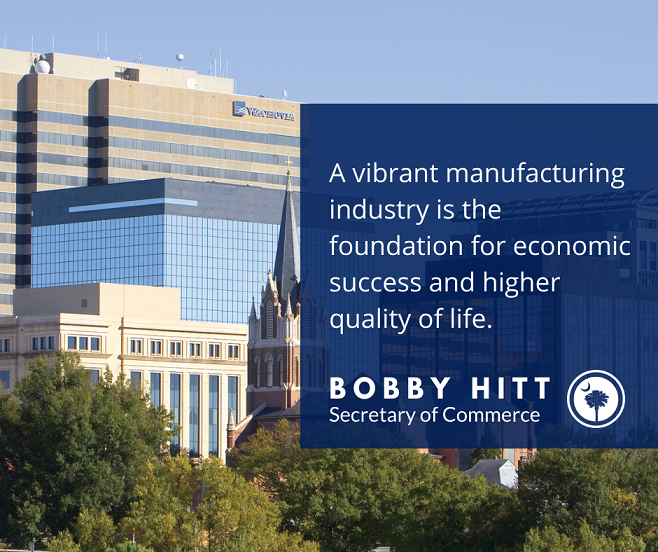 In honor of National Manufacturing Day tomorrow and the upcoming South Carolina Manufacturing Week, it's important to reflect on the vital impact this sector makes in our everyday lives. 
In South Carolina, we take great pride in our state's manufacturing history, with our manufacturing origins tracing back to the late 19th century when textiles started to take off. Today, South Carolina has established itself as a true powerhouse in advanced manufacturing. From premium automobiles to wide-body aircraft and pharmaceuticals to high-tech appliances, S.C. produces some of the most complex products in the world. 
With a skilled workforce that's second to none and a vast infrastructure network that promotes global connectivity, a remarkable number of manufacturers have decided to make significant investments in our state. In fact, since 2011, manufacturers have announced more than 70,000 new jobs in South Carolina. 
Our state's manufacturing sector has also shown incredible resiliency this year during the COVID-19 pandemic. South Carolina companies have demonstrated an unwavering commitment to not only overcoming the challenges associated with the coronavirus, but doing it with an emphasis on safety. Many manufacturers in the Palmetto State were leaders in their communities for safety - producing much-needed personal protective equipment and helping lead the charge in developing safety protocols. 
Team S.C. applauds our state's manufacturing community on these efforts, as they did not go unnoticed. 
As we gear up for National Manufacturing Day and South Carolina Manufacturing Week - initiatives aimed at inspiring the next generation of manufacturers and highlighting the crucial role manufacturing plays in our daily lives - it's important that we promote the quality of the opportunities this sector provides.