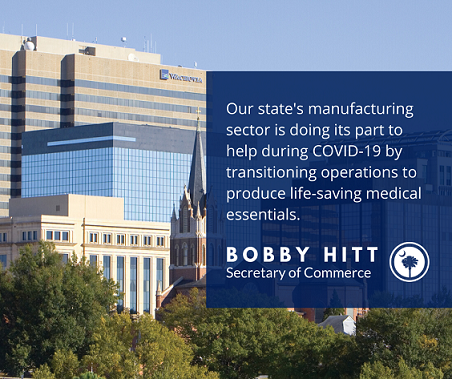 "Look for the helpers. You will always find people who are helping." 
In difficult times, that famous sentiment from Fred Rogers of Mister Rogers' Neighborhood often comes to mind. And, that is exactly what's happening in South Carolina. Our state's manufacturing sector is doing its part to help during COVID-19 by transitioning operations to produce life-saving medical essentials. 
To aid in that mission and to continue to serve front-line medical personnel, the S.C. COVID-19 Emergency Supply Collaborative launched earlier this week. This platform works to recruit community partners that have the ability to quickly source or produce much-needed medical supplies to support South Carolina's COVID-19 response. The Emergency Supply Collaborative, an initiative of the S.C. Manufacturing Extension Partnership, S.C. Hospital Association, SCBIO and S.C. Commerce, is a valuable resource for manufacturers, suppliers and other organizations to connect with the needs of the medical community. On the newly-launched website, healthcare providers can also list specific needs, devices and supplies that are in most critical demand.
Additionally, S.C. Commerce continues to update the COVID-19 Business Resources Center with the most timely and critical information for the business community. This online tool contains pertinent information including tax support, financial assistance resources, the Clarification of Designation Business Form, employment benefits and much more.
As we continue to navigate the COVID-19 pandemic, Team S.C. is steadfast in our commitment to the health and wellness of our communities and our industry sectors by providing relevant resources and tools as they come available.