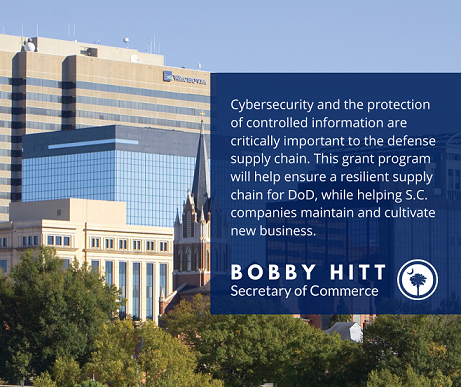 S.C. Commerce is continually working to find opportunities and resources to help businesses be successful, which includes procuring more business. And, now more than ever, this is critical as many of our companies' supply chains have been dramatically disrupted.
The Department of Defense (DoD) is a major force within South Carolina's economy, accounting for $2.1 billion in contracts across more than 700 defense-related firms within our borders. In an effort to support South Carolina's military footprint and maintain a secure supply chain for our defense contracting companies, a new tool is available for businesses needing to meet DoD cybersecurity requirements.
The South Carolina Cybersecurity Assistance Program (SC-CAP) provides funding and assistance for defense contractors to comply with upcoming DFARS 7012 and NIST 800-171 Security Requirements. The program is funded by the DoD's Office of Economic Adjustment (OEA) through the S.C. Department of Employment and Workforce, and is being coordinated by S.C. Commerce and the S.C. Manufacturing Extension Partnership.
Along with upcoming webinars detailing this new grant program, we will be rolling out additional information in the coming weeks.
Cybersecurity and the protection of controlled information are critically important to the defense supply chain. This grant program will help ensure a resilient supply chain for DoD, while helping S.C. companies maintain and cultivate new business.