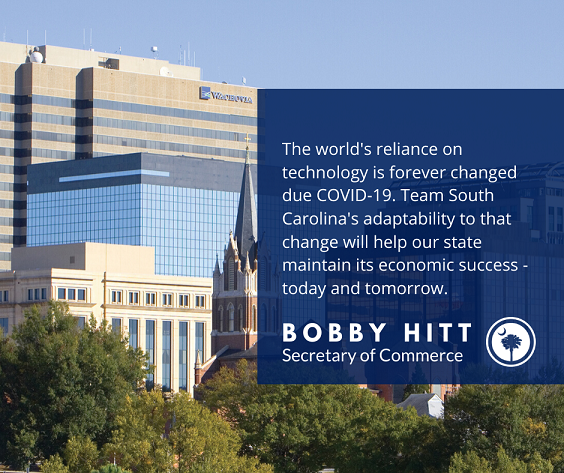 Stephen Hawking once famously said, "Intelligence is the ability to adapt to change." Those words take on new meaning today, as people and organizations around the world are adapting to change on a considerable scale. 
Over the last few months, the coronavirus pandemic has uprooted the way people work, learn and live across the board. Digital platforms have become our primary way of interacting. Organizations are adopting more virtual communications in lieu of face-to-face meetings in an effort to ensure safety and reduce the spread of the virus.
From an economic development standpoint, though our approach is more virtual at the moment, Team South Carolina's recruitment efforts have continued. We are adapting to new ways of meeting with prospective companies; showcasing our marketable sites within our state; supporting our existing industry; and helping facilitate international trade. One unique approach in the works is a series of virtual trade missions, which we'll share more details on in the coming months.
As the world continues to navigate this uncharted territory, one thing that is abundantly clear is the need for a workforce on the cutting edge of technology. One way Team South Carolina is helping train the tech workers of tomorrow is through the SC Codes program. A collaboration powered by the S.C. Department of Commerce's Office of Innovation and Build Carolina, SC Codes is a free platform connecting South Carolinians to the education and resources they need to unlock careers in technology. Now, more than ever, is a time to foster the state's digital workforce to ensure future economic prosperity.
The world's reliance on technology is forever changed due COVID-19. Team South Carolina's adaptability to that change will help our state maintain its economic success - today and tomorrow.