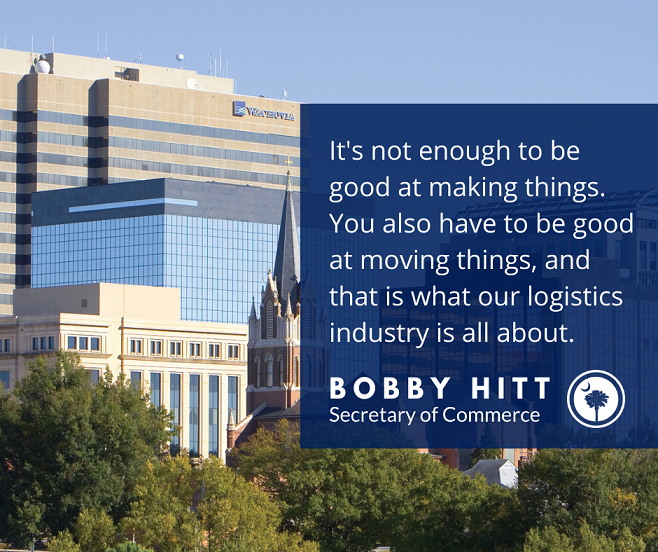 The dictionary defines the word logistics as "the handling of the details of an operation." A simple definition, but in the business arena, logistics is a complex, highly integrated network critical to the success of companies and to economic development. 
  
In South Carolina, our logistics sector is booming. One massive display of that sailed into the Port of Charleston earlier this week, when the CMA CGM Brazil - the biggest container ship to ever visit the U.S. East Coast - made Charleston the last U.S. port of call before heading overseas. 
The ship, which can carry 15,072 containers of cargo and measures 1,200 feet long, arrived to cheering crowds lined up to welcome it to the Wando Welch Terminal in Mount Pleasant. Charleston's deep harbor and wide channels, combined with the SC Ports Authority's efficient operations, seamlessly handled the loaded vessel. 
The CMA CGM Brazil's visit represents a landmark event, signaling our state's big-ship capabilities and global competitiveness. 
With the Port of Charleston, the Greer and Dillon Inland Ports and major rail lines, highways and airports, South Carolina has both a domestic and global reach. And, our logistics sector continues to create jobs and attract investment. 
In fact - according to the SC Council on Competitiveness - since 2017, the overall economic impact of the logistics industry in South Carolina has increased by 4%, and the logistics workforce has grown by 7% during that timeframe. The Council has recently conducted its SC Logistics Economic Impact Study, which will be released on October 1.
The study will detail the growth of our state's logistics and supply chain sectors and highlight the importance of a robust logistics network. 
Team South Carolina's strategic emphasis on logistics has been key to the success we've had, especially in attracting advanced manufacturing to our borders. It's not enough to be good at making things. You also have to be good at moving things, and that is what our logistics industry is all about.