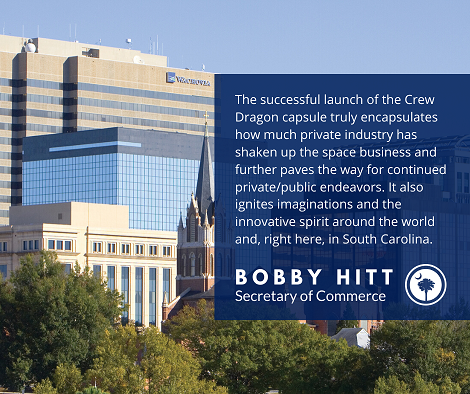 "The true courage of space flight is not strapping into one's seat prior to liftoff. It is not sitting aboard six million pounds of fire and thunder as one rockets away from the planet. The true courage comes in enduring … and persevering, the preparation and believing in oneself."
Those inspirational words by S.C. astronaut, scientist and teacher Ronald McNair ring particularly true today, as the world ushered in a new era of space flight over the weekend. SpaceX's historic launch marks the first time a private company has sent astronauts into orbit — and — the first manned mission from U.S. soil in nearly a decade.
The successful launch of the Crew Dragon capsule truly encapsulates how much private industry has shaken up the space business and further paves the way for continued private/public endeavors. It also ignites imaginations and the innovative spirit around the world and, right here, in South Carolina.
In the Palmetto State, we understand that to fuel passion and ingenuity, and break barriers, we must make a commitment to research and development. One such resource is the University of South Carolina's Ronald E. McNair Center for Aerospace Innovation and Research, named after the Lake City native and Challenger astronaut who broke many barriers in his short-lived but inspiring life. The McNAIR Center is focused on aerospace-related education, research, K-12 STEM, workforce development and industry engagement.
To ensure that South Carolina remains on the cutting edge of technology and boasts a high-tech workforce, the continued growth of our innovation economy is critical. And, as we once again look to the stars, our perseverance, as Mr. McNair once noted, will help fuel further ingenuity and exploration.