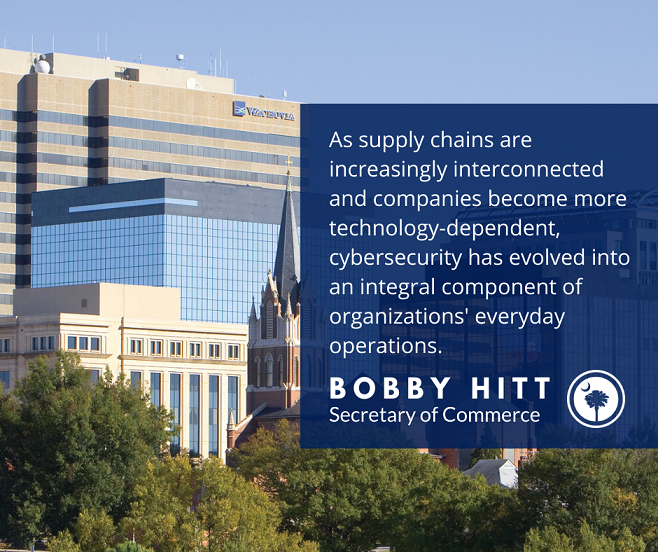 "It takes 20 years to build a reputation and a few minutes of cyber-incident to ruin it." That warning by renowned cybersecurity expert Stephane Nappo is particularly timely today, as October marks National Cybersecurity Awareness Month (NCSAM). Now in its 17th year, NCSAM continues to raise awareness about the importance of cybersecurity across our nation.
From a manufacturing perspective, as supply chains are increasingly interconnected and companies become more technology-dependent, cybersecurity has evolved into an integral component of organizations' everyday operations. Acknowledging that reliance on technology will only continue to grow, Team South Carolina is committed to strengthening and expanding the state's cyber technology network. 
Earlier this year, S.C. Commerce announced the South Carolina Cybersecurity Assistance Program (SC-CAP), which awarded grants to 27 S.C.-based defense contracting companies to assist with costs related to complying with upcoming Department of Defense (DoD) security requirements. This grant program, funded by the DoD's Office of Economic Adjustment, will help ensure a resilient supply chain for the Department of Defense, while helping S.C. companies maintain and cultivate new business. 
Additionally, the planned SC National Guard cyber facility in Aiken County will be an important step in advancing South Carolina's cyber industry. The facility will enhance the National Guard's cyber mission and provide the basis for collaboration between military, education, industry and research centers to protect cyber infrastructure and recruit industry to the state. 
Collaboration is key to accelerating growth and innovation within cybertechnology, and S.C. Commerce's partnership with the South Carolina Council on Competitiveness' SC Cyber and SC Tech initiatives is another way Team South Carolina is working to establish the Palmetto State as a global hub for innovation. By working together, we can attract the companies and fuel a workforce that pioneer technology, while also providing systems that protect data both now and in the future.