As South Carolina's lead economic development agency, the S.C. Department of Commerce is steadfast in our commitment to providing businesses the assistance and resources needed during this uncertain time. We are working with our partner agencies and organizations to continue equipping companies with critical and timely information as we all navigate the impacts of COVID-19.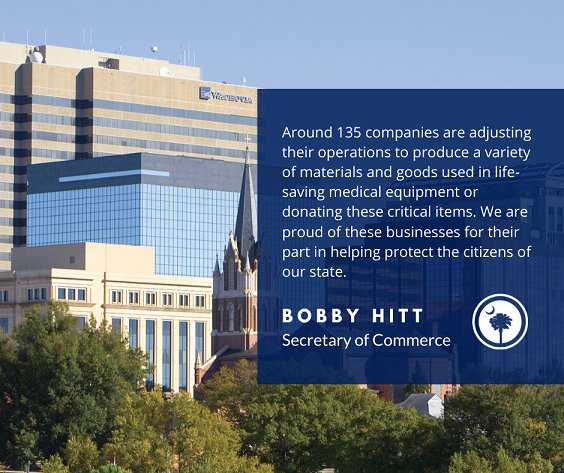 In response to Gov. McMaster's closure of non-essential businesses in the state earlier this week, S.C. Commerce expanded our online business resources. A detailed listing of businesses categorized as non-essential that are closed as a result of the executive order is available on our COVID-19 business resources page. If a business needs further clarification, company representatives should complete the Clarification of Business Designation Form. Our COVID-19 response team will reply to business inquiries submitted online within 24 hours.
During this difficult time, I would be remiss if I didn't thank the South Carolina manufacturers and companies that are able to step up and answer the call for help. More than 135 companies are adjusting their operations to produce a variety of materials and goods used in life-saving medical equipment or donating these critical items. We are proud of these businesses for their part in helping protect the citizens of our state.
These are challenging times with information changing daily. As we move forward, it's important to remember that we are all in this together. Team South Carolina pledges to be here for industry today and tomorrow, working on your behalf.